INVEST IN LIFESTYLE HOTEL PROPERTIES WITH OPERATION METHODS PROVEN TO WORK
Our commitment to thoroughly fulfilling our operational methods ensures your lifestyle hotel investment with Virgin Hotels is a safe one. With a focus on operational discipline, all our departments are in constant sync with one another to achieve the company's goals.
Creating innovative lifestyle hotels requires a dedicated team that understands the complexities of the industry. Success in modern hotel development requires executing key details that mold design, culture and technology to create a memorable, one-of-a-kind experience for consumers, employees and associates alike. From leadership to culture and process, this is the Virgin Hotels way.
Read

More

Less
Leadership
The leadership team at Virgin Hotels brings many years of experience in the luxury hotel sector from across some of the strongest lifestyle management companies in the industry. Many of our team members also bring considerable experience from traditional brand and management companies, allowing us to understand the competitive landscape in any market.
Culture
There's something magically indescribable about our Virgin Culture. It's what sets us apart from our competitors and makes the Virgin Brand so unique. Our Brand Purpose states what we stand for while our culture defines who we are. Together, they make Virgin one of the most desirable places to work. The way we naturally behave, every day, is the way the brand is experienced. Virgin is a human culture led by our hearts and our heads. We hunt for talent that genuinely cares about people, the planet and profit. This caring is plain to see in the authentic and approachable way we relate to others. Internally our culture never forces talent to shrink to fit but encourages you to think individually, to take positive risks and to achieve much more than expected. Read more about our culture from Forbes.
Operations Process
The operations process within Virgin Hotels has a simple philosophy: Keep it simple and free up our talent to provide brilliant service! Operations Put Simply, or OPS, is our version of Standard Operating Procedures, and encapsulate the process and the essence of the brand in simple to read and understand documents. This data is all housed within a comprehensive "Intranet Portal" which also serves as a medium of communication for our teams, investors and corresponding vendor/partners. The "Cycle of Operations" as we call it, ties culture, process and measurement together in a seamless manner that creates an environment of accountability and enhanced profits.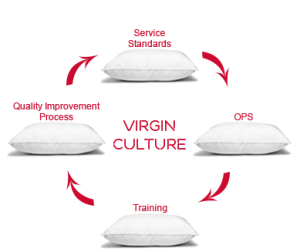 Marketing Virgin Hotels
Virgin Hotels' marketing efforts are strongly rooted in digital, CRM and public relations. Leveraging Virgin's global brand awareness to create collaborative marketing strategies with our sister companies allows us to quickly garner brand awareness throughout the boutique hotel industry in a fraction of the time it would take another hotel brand.
Read

More

Less
Digital Marketing
Digital is at the core of our marketing strategy as it achieves the most optimal revenue results while providing the highest ROI. We place a large amount of resources against creating the best-in-class websites, SEO and SEM, email and mobile marketing and social media alongside visually engaging, emotional and valuable content. Read more about our digital marketing from Tnooz.
Understanding Our Customer – The Know Program 
Knowing our core audience all the way through is vital to our marketing campaigns as we strive to provide meaningful, and contextual offers while personalizing a consumers stay by knowing their exact preferences. The Know, our customer preferences program, helps us to create those meaningful relationships based on loyalty beyond points which means more to your bottom line. We've recently added Member Only Rates, Upgrades and special offers and events in the Commons Club to drive more direct bookings. Read more about The Know program from Mashable.
Customer Relationship Management
Our CRM centers on creating new ambassadors for the Virgin Hotels brand while introducing luxury hotel experience to 50+ million Virgin consumers worldwide. Cendyn, our CRM solution, provides marketing automation and guest intelligence for our hotels. The Know, our loyalty and preferences program uses Cendyn to leverage real-time data to provide personalized one-to-one communications and service to our members.
Virgin Airlines Customer Base
By aligning ourselves with the over 4 million Virgin Atlantic, and Australia members, we're converting frequent flyers into frequent hotel guests through preferred offers and status.
Earned Media/Public Relations
We value the importance of earned media/public relations and what that means to the hotels bottom line so our efforts are focused on providing exciting and relevant content that will be picked up by our targeted digital and traditional media outlets. Richard Branson and Virgin have prided themselves on creating one of the most powerful PR machines in business.
Direct Sales
The property sales force, working in tandem with the sales force for Virgin Atlantic, make a winning combination in achieving our topline goals. Ours sales teams consist of the most tenacious and value driven professionals, providing revenue building in several key market segments.
Read

More

Less
Groups — Meetings, incentive trips, conferences and exhibition (MICE), from corporations, associations and social organizations
Entertainment — Television, movie and music
Travel — Travel management companies (TMC), consortia, tour and wholesale
Corporate Transient — Business travel (managed and unmanaged)
DISTRIBUTION & REVENUE MANAGEMENT
Virgin Hotels provides a powerful and cost-effective distribution channel system along with best-in-class technology resulting in exceptional top and bottom line results. Our distribution channel system is fully integrated with our revenue management, customer relationship and property management systems. This allows for real-time revenue management strategies to take place and provide market-share premiums in any city a Virgin Hotel calls home.
Read

More

Less
Central Reservation System
Sabre Hospitality Solutions industry-leading SynXis CRS powers our distribution. Its next-generation application framework combines state-of-the-art technology with advanced user features to deliver the most flexible and easy-to-use reservation and distribution solution.
Revenue Management System
Duetto provides a cutting-edge hotel revenue management system to optimize demand, maximize rate and minimize cost. Powered by leading Silicon Valley technologists and hospitality industry veterans, the hotel revenue management platform incorporates big data together with booking data, online customer activity and a powerful algorithm to give the best price recommendations for each customer.
People Powered
A strong culture and purpose drives profits, and Virgin Hotels understand this better than anyone, relying on the Virgin culture to create a best-in-class workplace environment for all. Read more about our people from Virgin.
Read

More

Less
Infrastructure
Global HR support from Virgin Group
Virgin "Open Door and Fair Treatment Policies" promoting fairness, stability, and low turnover
Succession planning program with other Virgin companies
Ongoing organizational climate surveys
Virgin packaging of workman's compensation, national health, safety, and comprehensive loss/risk management services and materials
Proactive Hiring & Training
Simple job descriptions to minimize ambiguity
Tough screening processes coupled with exceptional orientations
Training intertwined with everyday work activities and meetings to reduce costs
Supplementary online training. Virgin University
Daily pre-shift meetings focusing on "Service Standards of the Day"
Internal social media programs aimed at spreading the culture
Safety
Compliance with applicable regulatory mandates
Progressive safety programs
Reduced costs through reduced claims
Recognition & Improvement
Performance-based compensation with incentives to exceed targets
Over-the-top recognition and celebrations
Twice-a-year Associate Opinion Survey independently managed with results posed online
Internal company newsletter focused on associates
Interactive and social intranet housing all forms, documents, standards, awards, and recognition such as posted service stories